This is a post by REV23 guest contributor, Melissa Ferranto.
Hey, all of you awesome REV23 users or soon-to-be users looking to up your level of awesome! I'm Melissa Ferranto, or you can just call me Mel. I've been tattooing since 2009 and managing a studio for almost eight years, and I currently own and operate Elite Tattoo Gallery, a high-volume studio in Jacksonville, NC, and The Impact Project, a four-day educational conference for tattooers and shop owners.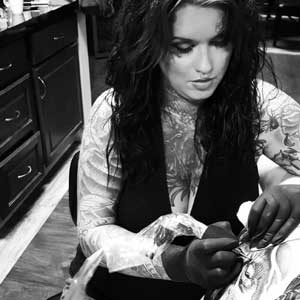 I started using REV23 in my studio a few years ago, and I'd like to take some time here to talk about what a huge impact it's made on me and my business. To do that, I think it'd be best to shine some light on just how outdated our process was before. Let's put it this way: the only thing that wasn't manually accounted for on paper was our very unreliable web-based appointment calendar, which we had just adopted a few years before discovering REV23. Some days, the appointment website was just completely down for maintenance, and other days, our appointments would just randomly disappear. I'm sure you can only imagine how frustrating that was.
On the paper side of things, every client who came in would fill out a consent form that we scanned their ID onto. From there, the form would go into the corresponding tattooer's weekly filing bin. Once a week, the manager would take certain information from the form and put it into an Excel sheet. We'd collect information like their birthday, address, how much they spent, and their demographics for this spreadsheet in order to do things like send out birthday cards and build reports. From there, the form was stored in a filing cabinet organized by month, separated by tattooer, and kept in order by date. Sound like a lot of time and manual effort? It was!
Then there was our super high-tech, state-of-the-art envelope system (sarcasm, of course). When we sold aftercare, the product got itemized on an envelope, and the cash or credit card slip went inside. The same thing went for each tattooer's daily sales. They each had their own individual payout envelope, which was itemized by tattoo. At the end of each night, all the cash flow information for the day was written down on a printed spreadsheet which was itemized by tattooer, cash sales, credit card sales, total sales, credit card tips, and payout amount, with the master totals at the bottom, after we had broken out the calculator. Needless to say, when we found the REV23 system a few years ago, it changed everything!
REV23 completely streamlined our entire process. Now our payments and our calendar system are connected in one big digital filing cabinet. Consent forms are completely paperless. We just scan each client's ID into the computer, and their entire form is stored as a PDF in the system. It makes information extremely easy for us to find, including their birthday, their appointment history, deposits on file, how much they've spent and with whom, and so much more. And get this: it generates all our reports for us!
REV23 has eliminated hours and hours of filing and data entry every week. All the cash flow and services are stored in the system. The money goes into the register, and everything is easily accounted for. No more printing spreadsheets, transferring totals from envelopes, or pulling out the calculator. At the end of the night, we simply hit print, and a generated report spits out for each tattooer to keep for their records. It tells them who they tattooed and automatically populates all their totals. Those same reports make accounting for each day and doing payroll completely effortless.
I love how our entire studio's appointments are also stored together in our system. It's not web-based, so we never have to worry about internet glitches either. Features like the ability to search for the next available appointment make everything easy. You can filter by artist, weekday, or hours needed to do the tattoo. The system also texts and emails each client to remind them of their appointment day and time. There are so many amazing features that make life running a business easy that I simply can't tell you all of them here.
I would also like to say that I'm a huge fan of how Nate, the developer, devotes himself to working so closely with tattoo studios. He is always willing to toss around ideas about new features and find any adjustments that might need to be made in the program. This way, the program is constantly evolving in a positive direction for the tattooers and shops that use it. Because of REV23, we've been able to completely revolutionize the way we do business at Elite, which is why I stand behind the software 110% and speak about it quite frequently at The Impact Project conference. It appears in multiple seminars at the conference because it so deeply intertwines with nearly every aspect of our business now.
The Impact Project conference, in addition to introducing tools like REV23 and how to use them, also focuses on the business of tattooing and methods you can implement to make a huge impact on your career. Tattooers learn about art and technique in their early years of tattooing, but many of us never receive a higher level of training in other adjacent competencies like career, business, and growth strategies, workflow efficiency, marketing, high performance, client relations, studio management, and many other in-depth topics that can help take any tattooer's career to the next level.
We've made sure to infuse the conference with artistic topics as well to create a solid, well rounded learning experience for all attending. When you pair that with the unique networking experience that we create, it's really an event like no other. We have frequent networking breaks to allow you to reflect with the others at your table, giving you the opportunity to brainstorm and collaborate with over 50 other tattooers, managers, shop owners, speakers, sponsors, and other industry business men and women. We're fortunate to have had the opportunity to coach so many different people and truly make a difference in their lives.
Like REV23, our mission is to evolve the industry and those who choose to be a part of it by providing the tools that help tattooers and studios become more successful. I'd like to personally invite you to our next conference to see what The Impact Project is all about, learn more about the ways that you can use REV23 in your business, and make the difference you need to make to take yourself and your career to heights that you never thought possible!
The Impact Project - 2018 Event Pre-Sale Passes
Mel (First row, center), Nate (Middle row, left)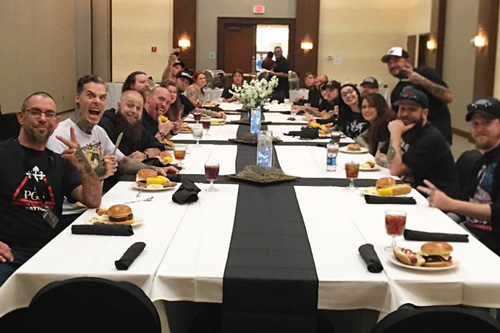 Mel & Nate (Middle, right) seated at VIP dinner.